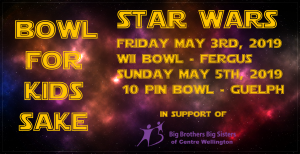 Calling all bowlers!!
Bowl for Kids' Sake: Star Wars edition is now open for team registration! Head on over to our events page to learn more about how you can get involved!
Bowl for Kid's Sake is Big Brothers Big Sisters' premier "fun"-raising event where people like you get together with friends, family, and co-workers and have a fun time bowling in support of Big Brother Big Sister mentoring programs in our community. Over the last year we were able to help over 250 kids in our community and we're hoping to surpass that number this year.
To learn more about Bowl for Kids' Sake and register your team, click here!