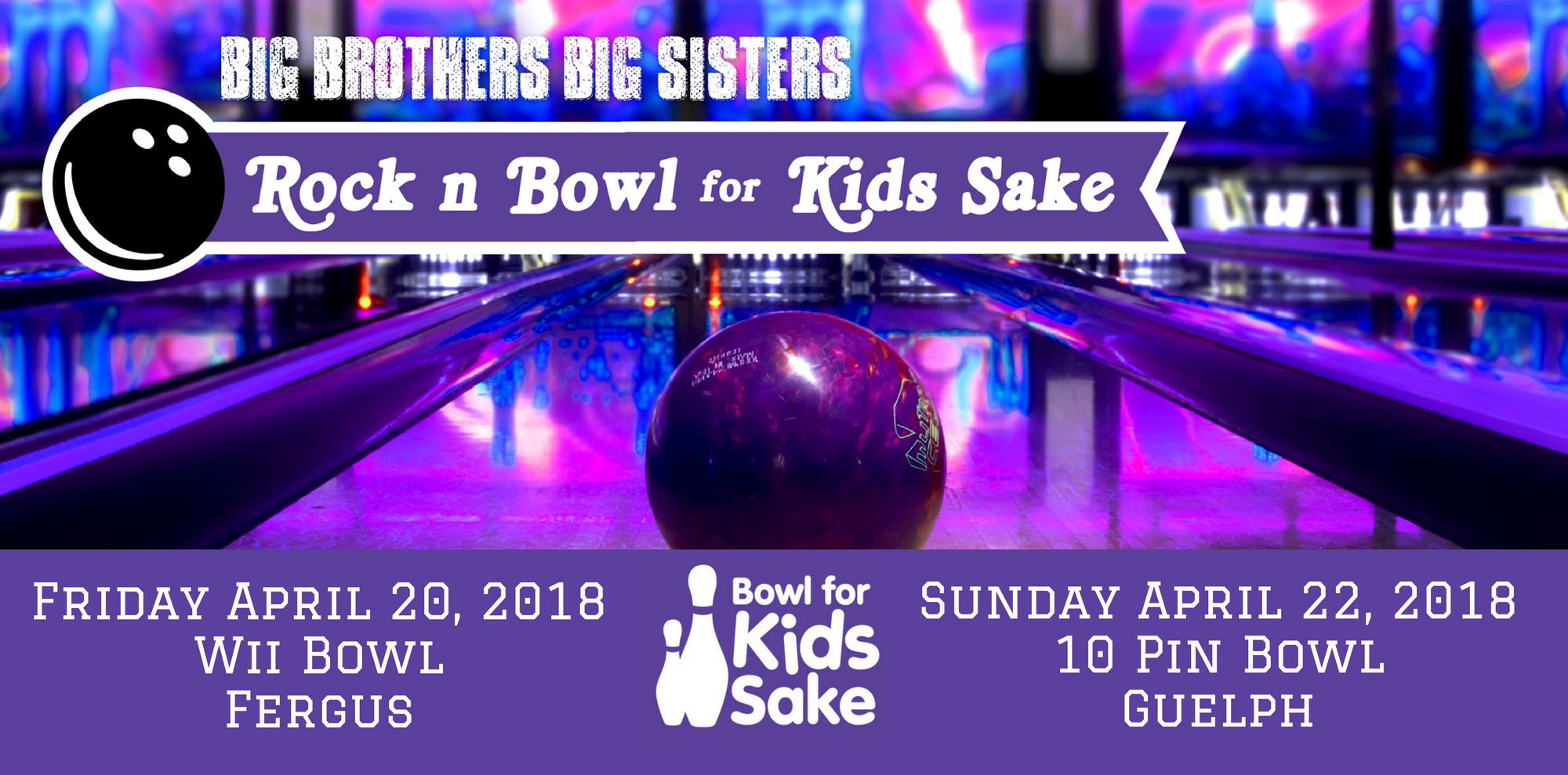 Step 1: Register Your Team
Get the ball rolling! Pick a location, time slot and form your team!
Team Registration
Step 2: Create an Online Giving Page
Create a online giving page to share with friends and family!
Create Online Page
Bowl for Kids Sake is our signature event and happens in communities all across Canada!  It is a big fundraising event for us and over 65 teams raise pledges every year to support mentoring programs that genuinely transform young peoples lives right here in Centre Wellington  #LetTheGoodTimesRoll!
It's a great way to get your staff team together for fun time out while supporting a worthy cause. This year's theme is Rock and Roll so get ready to bust out your band tees and win some prizes!
#Bowl4KidsCW #LetTheGoodTimesRoll
Step 1: Register your Team
Click above on Step 1: Register your team and you will be asked to select the date, time and location you want to bowl at.
Friday April 20: Wii Bowl at Victoria Senior Centre, Fergus
Great option if you want to stay local and just take an hour break out of your day to have fun and do good!  Wii Bowl has 3 lanes set up just like at a bowling alley, music, team pizza and snacks, raffle prizes and a 50/50!
Check out who has already signed up for Wii Bowl and click above on Step 1: Register your Team to book your time slot! Only three teams per time slot for Wii Bowl so book early!
10:00 am to 11:00 am:
11:00 am to 12:00 pm: Grand 101.1, Wightmans, Knights of Columbus THIS SLOT IS FULL!
12:00 pm to 1:00 pm: Joan Jolley 1, Joan Jolley 2,
1:00 pm to 2:00 pm: Fergus Legion 1, Fergus Legion 2
2:00 pm to 3:00 pm:
3:00 pm to 4:00 pm:
4:00 pm to 5:00 pm:
5:00 pm to 6:00 pm:
*please note we update this list weekly
Sunday April 22: 10 Pin Bowl at Woodlawn Bowl, Guelph
The traditional bowling experience you would expect with the music and sounds of the ball making a strike!  Team pizza after 11 am, raffle prizes and 50/50.
Check out who has already signed up for 10 Pin Bowl and click above on Step 1: Register your Team to select your time slot! (Multiple spots available for each time slot)
10:30 am to 11:50 am: Dr. Maura McKeown & Associates, Collins Barrow (4 lanes), TML, Can't Believe It's Not Gutter (T.McCarol) LOTS OF SPACE HERE!
12:00 pm to 1:20 pm: ICS Computers, Team Fitz, Motion Electrical Contracting 1, Motion Electrical Contracting 2, Gottmers, Giles CarStar, Melissa Issac, UTS #1, UTS #2,  LOTS OF SPACE HERE!
1:30 pm to 2:50 pm: Rolling Thunder (R.Hurst), OPP, RLB LLP, Sid Madruga, Fergus Scottish Festival, Edge Realty #1, Edge Realty #2, Youngblood Family LOTS OF SPACE HERE!
3:00 pm to 4:20 pm: Neil Armstrong, Danielle Jones, Belwood Lions, Forgers #1, Forgers #2, Gutter Gang, Rolling Stones, Kids who Care, Anytime Fitness, Kathy Fines, Belwood Lions #1, Belwood Lions #2  THIS TIME SLOT IS NOW FULL!!
4:30 pm to 5:50 pm: Drexler Family, Talia Rose, BBBS of CW, Jaimi Ferreira, Country Dental, Drexler Travel 1, Drexler Travel 2, Lucky Strikes ONLY ONE MORE SPOT!!!
*Please note that we update this list weekly
Step 2: Create an Online Giving Page
Creating an online giving page is easy to do and makes fundraising easier! Share the link with your family and friends in an email or on social media. Saves you from having to collect pledges in person and gives long distance supporters a way to help you!
Click above on Step 2: Create and Online Giving Page to get started!
Do you prefer the paper pledge form?  We still have it!
Sponsorship Opportunities
Do you want to get your business noticed?  We can put your name and logo front and centre in front of almost 300 bowlers who are talking to an average of 10 supporters each!  That is 3000 people that hear about this event!