Big Brothers Big Sisters of Centre Wellington is serving youth at the BHive. We are connecting groups of 8 participants (12-14 years) with 2 mentors (18-30 years) to explore the trials and tribulations of growing up. Go Girls! and Game On! programs focus on physical activity, balanced eating, and self esteem to provide an opportunity for "feel good" discussions to positively shape the lives of youth.
We provide a safe place for youth to socialize, learn and grow at the BHive (900 Tower St. S).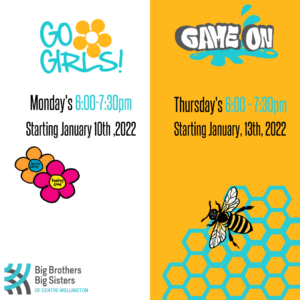 BBBSCW is supported by the Government of Canada's Emergency Community Support Fund and Centre Wellington Community Foundation.