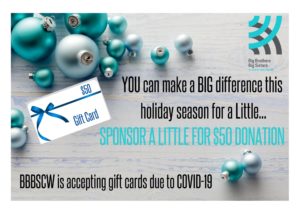 Big Brothers Big Sisters of Centre Wellington is trying to make Christmas 2020 a Little Brighter for all of our Littles this year.
This past year has presented us all with many challenges.  We have experienced loss of connections, routine and now, traditions. As we approach this holiday season, we are hoping to bring joy to the hearts and homes of the youth we serve. With your support, we will prepare and deliver special "Christmas in a Bubble" packages to our "Littles" in December. To do this, we are asking our community to help us by sponsoring a "gift" at one of our local sponsors or donating directly to our agency.
To purchase a gift card directly, visit our local sponsors:
For children under the age of 12, visit Brighten Up at 735 Tower St S, Fergus
For children over the age of 12, visit Edge Realty Solutions at 135 St. David Street South, Unit #6, Fergus
Thanks so much for helping us to make Christmas 2020 a LITTLE brighter!