Harvesting Hope Breakfast Event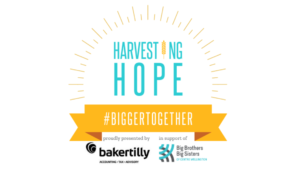 November 5, 2020
a remote breakfast event that brings the Fall bounty together with an entertaining broadcast
to harvest hope and support for brighter tomorrows for youth in Centre Wellington.
Curbside pick up or arrange for delivery (for groups)
Get your catered boxed breakfast from the  The Evelyn  in Elora and tune in from the comfort of your own home / office
Out of town friends, purchase *Event Only* option and receive $50 Tax Receipt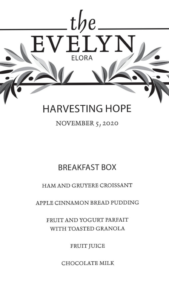 We are #BiggerTogether !
Tickets can be purchased above for $50 per person. Tickets on sale until October 29, 2020.
FAQ's
Q: What is the meal? Will you be able to accommodate my food allergies?
A: Breakfast will be catered by The Evelyn Restaurant of Elora. They will accommodate as many food allergies as possible. We will ask you to list your allergies or accommodations when you purchase your tickets.
Q: I have general questions that I would like to discuss with someone. Who can I reach out to?
A: Kelly Legge, in our office, would be happy to help you. 519-787-0106 ext. 221 or kelly.legge@bigbrothersbigsisters.ca
Q: We want to support but not sure what the best fit is. What should we do?
A: Maybe you would like to become a sponsor or a site host? If you click on both of the links above and you are still unsure, give us a call.
Q: What if cases of Covid continue to spike and we return to the restrictions imposed during Stage 1 or Stage 2?
A: Not to worry! We have a contingency plan in place to ensure all of our guests still enjoy the same catered breakfast and entertaining virtual show from the comfort of their own home
Q: Will you consider delivery of my breakfast?
A: Yes!!! Please contact Kelly Legge  for more information. 519-787-0106 ext. 221 or kelly.legge@bigbrothersbigsisters.ca